Browse & Save
Browse
After you download the Toolbox for iWork application and open it, you will see the home window with the banners representing all product sets:
Themes for Keynote
Layouts for Keynote
Infographics for Keynote
Graphic Styles for Keynote
Elements for Keynote
Clipart Prime
Inspiration Set
Business Mix Set
Stationery Set
Corporate Style Packs
Infographics for Pages
Elements for Pages
Jumsoft Clipart
Graphic Styles for Pages
Set for Numbers
To view the contents of each product set, click on its banner in the home window. You can also scroll down the home window to browse through new, popular, favorite, and purchased items.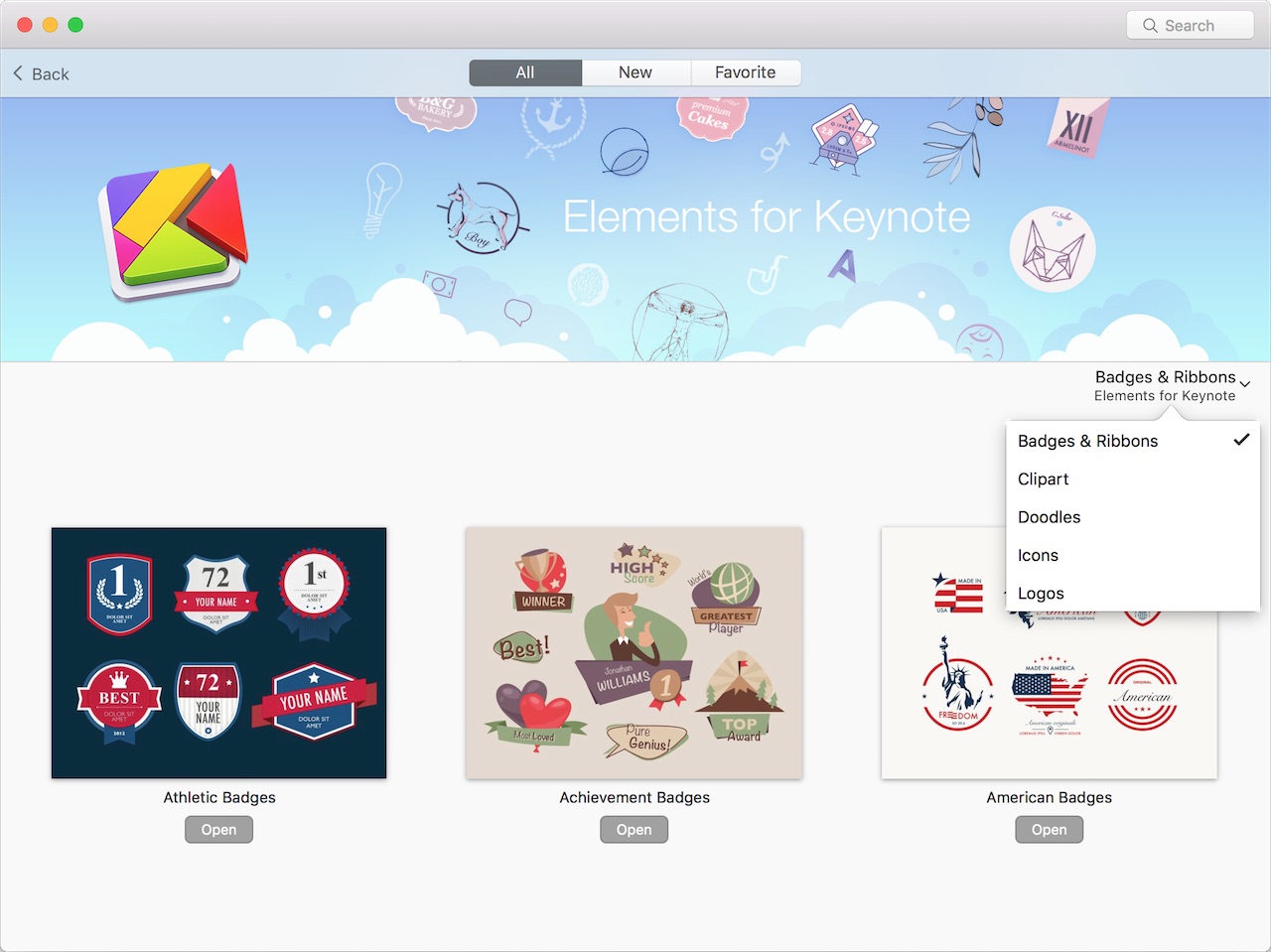 Once you have selected a product set, do any of the following:
Scroll down to browse through the entire range of designs.
Use the drop-down list of categories for a shortcut to a specific category.
Use the filters at the top of the window to view all, new, or favorite items.
Use the Search field at the top right-hand corner of the window to search all items by name or other keyword. You will get search suggestions as you type.
Click on the thumbnail of a selected design or press the Space key to view its full-size samples.
Mark a design as favorite by clicking the heart symbol at the top of the sample window.

Open & Save
Once you have downloaded an item, click the Open button to open it in Pages, Keynote, or Numbers (or in your default preview application for the Jumsoft Clipart and Clipart Prime images). For templates and themes, Pages, Keynote, and Numbers will ask if you want to save the item in the chooser.
To save an item in Finder:
Right-click on its thumbnail and select Save To.
Select a location where you want to save the item and press Save.
You can also drag individual items and product sets and drop them in Finder or on your Desktop.
New Items
Toolbox for iWork is regularly updated with new items, which automatically appear in the New section.